Annual SiC revenue is expected to grow at a 38% CAGR and reach $3.39 billion in 2025
For GaN, consumer electronics, NEVs, and telecom/data centers, in order, comprise the three largest sources of GaN power devices consumption, at 60%, 20%, and 15%, respectively.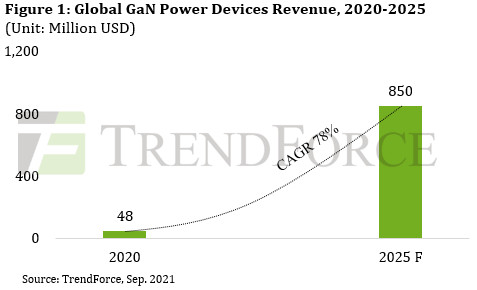 For SiC,  NEVs, solar power generation/storage, and charging stations representing the top three largest markets for power devices  at 61%, 13%, and 9%, respectively.
For the NEV industry,  SiC power devices are most widely used in powertrain inverters, OBCs (on board chargers), and DC-DC converters.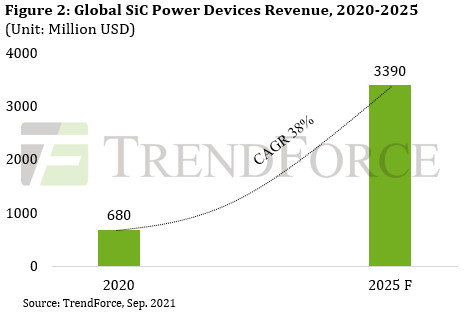 GaN and SiC substrates are 5-20 times more expensive to manufactured compared to traditional 8-inch and 12-inch Si substrates.
Most substrate materials are, at the moment, controlled by Cree, II-VI, Rohm, and ST.
Chinese suppliers, including SICC and Tankeblue, have entered the substrate market with the support of China's 14th five-year plan.
In Taiwan, two alliances led by Hermes-Epitek (with subsidiaries EPI and EPISIL), and SAS (with subsidiaries GW, AWSC, CWT, and ATC) are attempting to enter the market.
TAISIC, jointly funded by KENMEC and TAINERGY, has submitted 4-inch SiC substrates for qualification and is actively investing in 6-inch SiC substrate R&D.