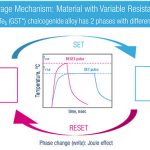 Memory makers, designers and users of SoCs are already incorporating new NVMs into leading-edge designs and emerging memory types could replace both standalone memory chips and embedded memories within microcontrollers, ASICs, and even compute processors, after which they will grow to create new markets of their own.
" The IoT will be revolutionised as new embedded memory types slash power consumption," says Jim Handy, general director of Objective Analysis, "larger systems are already changing their architectures to adopt persistent memories to improve latency and data integrity." 
The report reckons that 3D XPoint revenues could reach over $20 billion by 2031, that standalone MRAM and STT-RAM revenues will grow to about $1.7 billion and that embedded ReRAM and MRAM could replace the bulk of embedded NOR and SRAM in SoCs.
"Many of these emerging memory types require new tooling to support different materials and processes, and this will provide a growth boost for the capital equipment market," says  Dr.Thomas Coughlin,  president of Coughlin Associates, "total MRAM manufacturing equipment revenue will grow to over one-hundred times its $10 million 2020 total to reach $1.1 billion in 2031."
This report looks not only at PCM, ReRAM, FRAM and MRAM, but also a variety of less mainstream technologies, explaining each one's competitive strengths and weaknesses.  
Company profiles detail how each participant is addressing this market shift, and includes chip makers, technology licensors, foundries, production tool makers, and research consortia.
For more information and to order the report go to:
•       https://Objective-Analysis.com/reports/#Emerging
•       https://TomCoughlin.com/tech-papers/ 
I