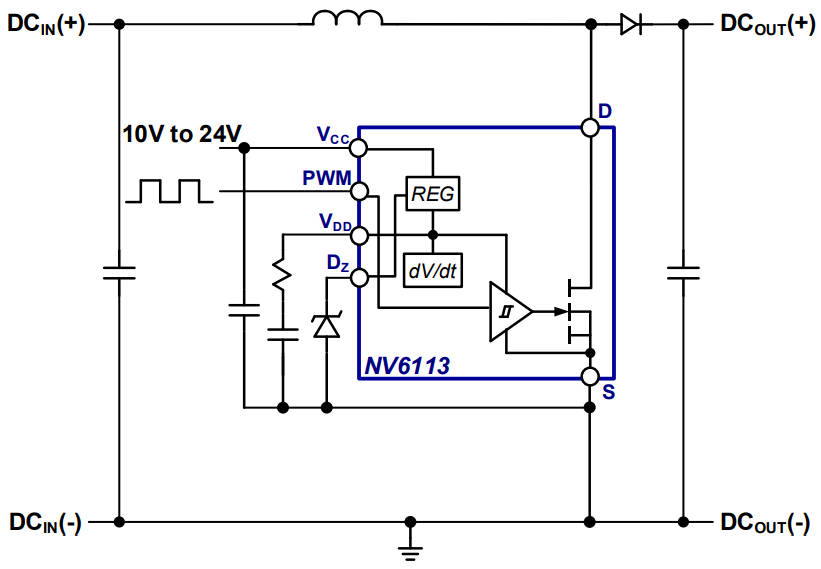 "With the higher-power NV6128, we extended the effective power range to 500W for the consumer market and look beyond that to multi-kW data centre, e-mobility and new energy applications," said company CEO and founder Gene Sheridan.
According to Navitas CTO Dan Kinzer, switching at 200kHz in a "modern high-speed totem-pole" architecture, the device can yield a complete 300W PSU at >1.1W/cm3. "When you crank up the speed to MHz+, you get another major step-increase in power density," he said.
The chip runs from 10 to 24V and over case temperatures for -40 to 125°C. The gate driver is integrated – controlling the crucial parasitics between driver and gate. Control need to be through a separate microcontroller, DSP or other integrated circuit.
For example, inside Oppo's ~80 x 40 x 10mm 50W SuperVooc charger are a pair of Navita's earlier (170mΩ) NV6115 ICs plus a TI UCC28782 active clamp fly-back controller switching at ~500 kHz and an On Semi NCP51530 level-shifter-driver.
The company refers to its products as 'monolithic' and, although not stated explicitly, the switching transistors seem to be enhancement-mode HEMTs, referred to it as 'eMode FETs'.
Although rated for 650V, NV6128 can handle <100µs non-repetitive 800V surges (from start-up or line interruption) and <100ns repetitive 800V spikes (from leakage inductance).
Packaging is 6 x 8mm PQFN package with integrated cooling pad.
200-500W applications are foreseen in all-in-one PCs, TVs, game consoles, gaming laptops and chargers for e-scooters and e-bikes.
Branded 'GaNFast', Navitas power ICs have been used in fast chargers by companies including Lenovo, Dell, Oppo and Xiaomi, with over 13,000,000 parts shipped, claimed CEO Sheridan.
The NV6128 data sheet is here