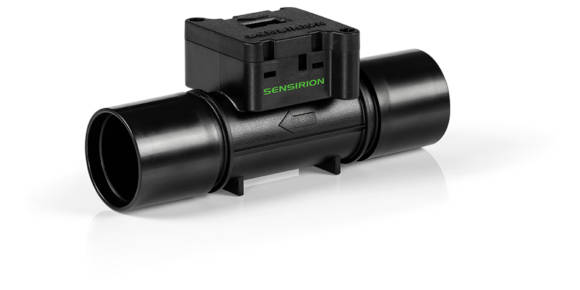 All based on its SFM3xxx platform, they are intended for inspiratory applications at ambient pressure.
SFM3119 (pictured) is a digital flow meter, the successor to its SFM3100.
Flows of air, oxygen and air-oxygen mixtures between -10 and 240 slm are measured, and output in 16bit format updated at 2kHz over two-wire I2C. The signal is internally linearised and temperature compensated.
Measurement is by thermal element on a CMOS chip, which also includes signal processing and digital calibration. Operation is across 3.3V to 5Vdc.
Pressure drop is designed to be low and inspiratory flow sensing applications are foreseen ventilation and anesthesia, as well as for precise mixing of oxygen and air.
SFM3003 has an extended flow range between -150 and 300 slm. It is based on the technology used in the SFM3019 sensor, which was introduced during the COVID-19 pandemic to provide a high volume flow sensors for inspiratory flow measurements in medical ventilators.
Compared to SFM3019, SFM3003 comes with a wider flow range and improved specifications. The flow of air, oxygen and mixtures of them at rates between -30 and 300 slm can be measured, and accuracy maintained without recalibration. It is designed for low pressure drop and fast response.
SFM3013 is a variant of SFM3003, offering additional resistance against over-pressure (up to 1 bar gauge pressure), and is also calibrated for heliox gas. "Both sensors are the ideal solution for high-volume applications that prioritise cost efficiency," according to the company.
Switzerland-based Sensirion will be showing these sensors at MD&M West in Anaheim California (10 – 12 August, booth 2362).