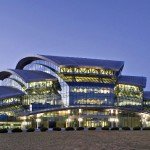 All three locations are being considered in addition to Samsung's already declared interest in siting the fab in Austin where it already has a fab.
The fab will create 1,800 jobs.
The authorities in Taylor have proposed a resolution that Samsung be offered a grant equivalent to 92.5% of assessed property tax for 10 years, 90% for the following 10 years and then 85% in the 10 years after that, plus a 92.5% tax waiver on new property built on the site for 10 years and the repayment of development review costs.
The 1,187.5 acre Taylor site is about 25 miles from Austin. In Austin Samsung's fab site is 600 acres.
Samsung plans to break ground on a new fab in Q1 2022 and run wafers by the end of 2024.