GP Dr Nick Gompertz is behind the interface, and he is working with a team from the University.
"When I was a medical student, I witnessed people losing the ability to use keyboards that they relied on to communicate," he said. "I have always been aware of the ability to tense a muscle in my ear, and so wondered if it could be used to control these communication devices."
The muscle is the tensor tympani, and the team's current prototype is a miniature camera held in a silicone ear-piece.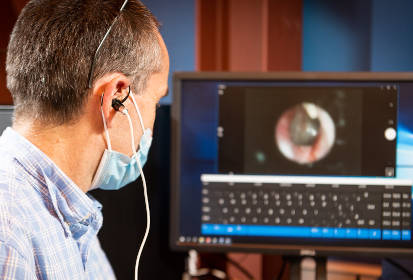 "The camera picks up movement of the eardrum when the person intentionally tenses the middle ear muscle," said Gompertz (left). "Beyond those with neurological conditions, there are potentially other applications – for example: answering calls via headphones or pods while on the move."
The device has been branded EarSwitch, and a company with the same name has been setup to develop it supported by the University of Bath's Digital Innovation Business Acceleration Hub and the SETsquared Scale Up programme.
The Earswitch team (from left): electronic engineers Martin Leonhardt and Ben Metcalfe, then Nick Gompertz and health researchers Richard Stevenson and Dario Cazzola
"This has helped them build a research team and secure funding from the National Institute for Health Research to further this work," according to the university. "The team is seeking further financial support to further develop the technology. They hope that development of Earswitch can be scaled up within the next two years."
Not everyone can move that muscle
Little is known about what proportion of the population can voluntarily move their tensor tympani and the team behind Earswitch wants to understand more.
"Many people won't have ever noticed this muscle in their ears," said Gompertz. "But when they are asked to concentrate when they yawn they may notice the muscle makes it more difficult to hear, which may also cause a fullness or rumbling sensation in their ears."
To gather more data, people are invited to complete one of two five minute on-line surveys:
For the general population
For those with neurological conditions