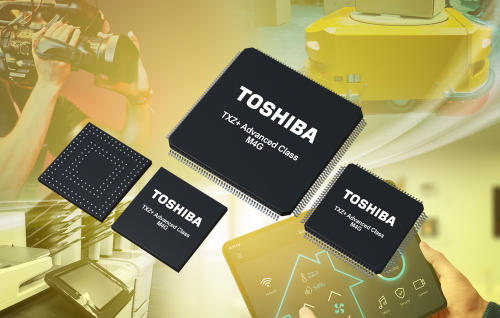 Made on a 40nm process, they are aimed at multi-function office printers, audio-video equipment, IoT, home appliances, building automation and factory automation.
All have a the Cortex-M4 with floating-point unit running at up to 200MHz alongside 128 or 256kbyte of flash for code, 32kbyte of data flash (100k write cycle endurance) and 4kbyte of user data flash. – Toshiba told EW that there is up to 2Mbyte of code flash, clarification has been requested.
Among communication interfaces in the mix are quad-octal SPI, IS audio, UART, FUART, TSPI and I2C. "A three-unit DMAC and bus matrix structure significantly improves communication throughput when compared to conventional products," said the company.
The 12bit ADC allows individual sample-and-hold times to be set for up to 24 input channels, and a programmable motor driver ('A-PMD')is suited to AC and brushless DC motors.
The self-diagnosis covers ROM, RAM, ADC and clock, to support IEC60730 Class B functional safety certification.
Documentation, sample software (with use examples) and driver software for each peripheral is available free from the company website, and evaluation boards and development environments are available.
Toshiba has provided this product link which isolates TXZA+ parts from the M4G group – which 20 parts are new is not clear – clarification requested.