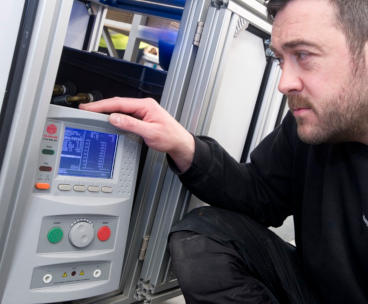 Salamander decided to move electrical safety testing into post-assembly test while re-shaping its manufacturing operations to meet the needs of different pump types, some of which include electronics.
The automated test solution it developed uses a Seaward HAL 104 programmable tester to provide a suite of electrical safety tests and data traceability, integrated with a custom test jig with automated test connections.
When a pump assembly is located into the jig, pre-configured codes automatically enable earth continuity and insulation tests, followed by a hipot (flash) test. Safety interlocks protect the operator.
Automatic electrical testing is followed by pneumatic testing to verify the integrity of the seals, then functional and performance testing.
"We have worked with Salamander for a number of years, and helping our customers integrate our products into bespoke production lines is a challenge that we are always happy to take on," said Seaward application engineer Anthony Snowdon.
Seaward Electronic
Salamander Pumps